Welcome to the Bulldog Rescue Network.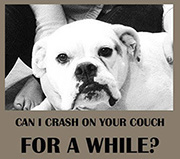 We offer new beginnings for English Bulldogs that are homeless, abandoned or surrendered. Some come from cruelty; some from ambivalence. Some Bulldogs come to us simply because an owner is elderly or sick and can no longer care for a much-loved pet, or there has been a divorce, job loss or illness in the family.
The Bulldog Rescue Network is also a resource for people hoping to bring an English Bulldog into their lives. Whether you will open your heart and provide temporary housing and care (fostering) to a recently rescued Bulldog, or wish to provide a rescued Bulldog a forever home, the Bulldog Rescue Network extends to almost every state in the U.S.
We take our mission seriously, to Rescue, Rehabilitate and Rehome
purebred English Bulldogs.
The Bulldog Rescue Network is a non-profit 501(c)3 organization. Your donations are tax deductible to the extent allowed by IRS regulations. We rely on the generosity of our volunteers and donors to continue to care for and rehome more than 2,000 English Bulldogs each year. Please donate to help Bulldogs in need. Thank you!
*Please note that our services are provided exclusively for the English Bulldog breed. A number of other rescue groups around the county can assist with American Bulldogs, French Bulldogs, Olde English Bulldogges, etc.